Green Alley Awards – Vote Now!
Who applied for this year's Green Alley Award?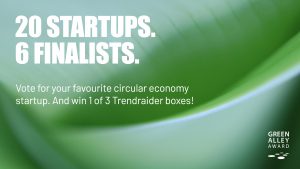 From 8th September to 17th November, Europe's start-ups once again took the chance to apply for the Green Alley Award, Europe's first start-up prize for the Circular Economy.
Where do today's start-up's come from and what are they working on?
Geographical scope This year, our applications came from 24 different European countries including Ireland, Denmark, Finland, Slovakia, Poland, Spain, Greece, France and the Netherlands.
Start-up insights Products make up almost half of the offers, while around 30% offer a service and more than 20% a technology. Compared to last year (15%), we saw an increase in technologies.
Looking at CEO gender, we received approximately one third of applications from businesses that are led by women (37%). According to the Green Start-up Monitor 2018, women usually make up only about 18% of green leaders – and this figure is even less when it comes to non-green start-up's.
The next steps After carefully evaluating the applications, the Top 20 Circular Economy ideas have been put on the Green Alley Award website for a public vote.
Starting on 12th January, the public can decide which start-up they want to see amongst the six finalists. These include: Alter Labs, betteries AMPS, carbonauten GmbH, Chemicle, Cyclic Design, dimpora, Excess Materials Exchange, Greenbin.app, +ImpaKT Luxembourg S.à.r.l, Kleiderly, Lyfa, MarinaTex, Papair, Pixies, plastship GmbH, Recyda GmbH, ReSync Start Up, Seacirc, traceless materials, TrusTrace 🍀
You for your Circular Economy Champion here>>
On 22nd April, all six finalists will present their idea to an international jury which will then choose the 20/21 Green Alley Award winner.