Recognition of pioneering circular businesses
Discover the latest circular economy business ideas: Green Alley Awards recognizes pioneering circular economy start-ups.
With climate change becoming more evident around the globe, a key question today is: how do we reduce the consumption of finite resources and maintain their value in the economy for as long as possible? Landbell Group created the Green Alley Award to acknowledge circular economy experts who are trying to find answers to this question.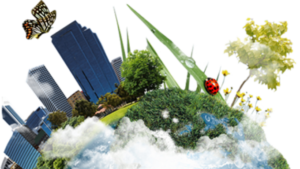 The award for circular economy start-ups
The Green Alley Award is Europe's first start-up prize for the circular economy. Since 2014, Landbell Group has presented the Award to start-ups whose innovative products, services or technologies help make the most efficient use of resources and reduce waste drastically. The solutions presented by these lateral thinkers range from sustainable materials to digital tools for a circular economy.
We can be your go-to partner when it comes to innovations and new approaches in the circular economy and sustainable recycling of waste. The Green Alley Award helps us discover promising sustainable business solutions before they enter the mass market and offer our customers new sustainable alternatives to improve their products, services, supply chains and recycling schemes.
Extending the life cycles of products
The circular economy is a production and consumption model involving sharing, leasing, reusing, repairing, refurbishing, and recycling existing materials and products as long as possible.
Annually, more than 2.5 billion tonnes of waste are produced in the European Union. This number introduces the need to urgently promote a more sustainable model as the circular economy, directly connected to the legislation on waste management, where ERP plays an important role.
The circular economy is the model for the future
The circular economy model is different from the linear economy model, which was based on a take-make-consume-throw-away pattern, where excessive and unnecessary consumption was seen as the right behaviour.
The circular economy focuses on sharing, repairing, refurbishing, and recycling instead. The result being that the life cycle of products is extended and the waste is reduced to a minimum, as its materials are kept within the economy wherever possible by reusing them to create further value.
What is the circular economy model good for?
The circular economy model is a resilient system that is good for business, people and the environment. It integrates every stage of a product's life cycle, from the moment it is designed until it becomes waste and how the recycling materials can be introduced in the manufacturing process.
Areas where the circular economy can be applied and developed are: biodiversity, city organization and management, climate, fashion, green energy, finance, food, waste and resources management.
What are the benefits of a circular economy?
3. Reducing pressure on the environment, improving the security of the supply of raw materials, increasing competitiveness, stimulating innovation, energizing economic growth (an additional 0.5% of gross domestic product), and creating jobs (700,000 jobs in the EU alone by 2030).
Sustainability in an ever more populated world
The world's population is growing, increasing the demand for raw materials that are finite and limited.
This scenario leads to the fact that some EU countries are dependent on other countries for their raw materials. Consequently, the extracting and using of raw materials has a major impact on the environment as well as increasing energy consumption and CO2 emissions.
What is the EU doing to promote a circular economy?
The European Commission presented the circular economy action plan in March 2020, to promote more sustainable product design, reduce waste and empower consumers (for example by creating a right to repair). The focus is on resource-intensive sectors, such as electronics and ICT, plastics, textiles, and construction.
One year later, the Parliament adopted a resolution on the new circular economy action plan demanding additional measures to achieve a carbon-neutral, environmentally sustainable, toxic-free and fully circular economy by 2050, including tighter recycling rules and binding targets for materials use and consumption by 2030.
The first package of measures was released in 2022 to speed up the transition towards a circular economy, as part of the circular economy action plan. The proposals include stimulating sustainable products, empowering consumers for the green transition, reviewing construction product regulations, and creating a strategy for sustainable textiles.
How can ERP support a circular economy?
Recycling transforms waste into resources (secondary raw materials) to be used in new product manufacturing. Innovative solutions to recycle waste and keep it in the loop has been one of ERP and Landbell's commitments for over 15 years
Treatment of hazardous substances can avoid the contamination of soils, water and air and reduce atmosphere pollution
Invest in awareness campaigns to awaken circular behaviour by companies, associations and the population in general
How do our members rate ERP and how we simplify, streamline, and optimize their recycling strategies? Here are a few examples.
Simplification and efficiency. We have one point of contact across EMEA. The learnings from one market can be applied to other markets. It's a benefit to have a common approach, a centralised point of contact which brings efficiency and cost savings.
Ramon Teixido
WW TBO Transformation Strategist, HP Inc.