Improving Reuse Rates of WEEE at Household Waste Recycling Centers
WEEE: Ink & Toner Cartridge Collections at Household Waste Recycling Centers
Summary
Working in partnership with ERP UK, specialist Ink & Toner Approved Authorised Treatment Facility (AATF), BCMY Ltd support numerous Household Waste Recycling Centers (HWRC's) in the South East and Wales to maximise the reuse volume of Ink & Toner waste received onsite through a supply and collection programme of Ink & Toner recycling bins.
"Having seen the project work so successfully across our Surrey sites, we were looking to expand across the UK. Printer cartridges are classed as small domestic appliances (SDA) and it's important that we work together to keep these very recyclable items, out of landfill." – ERP UK Managing Director, John Redmayne.
The proposed UK WEEE (Waste Electrical and Electronic Equipment) collection target for IT and Telecoms Equipment in 2019 has increased by 15% compared to 2018, with more focus being placed on ensuring waste management processes at point-of-disposal maximise the reuse opportunity of WEEE brought on-site.
Background
Legislation around the classification of Ink and Toner cartridges changed in 2016, meaning that the majority of cartridges are now classified as WEEE category 3 and therefore must be treated in accordance to WEEE Legislation (2000/96/EC).
Guidance on Best Available Treatment Recovery and Recycling Techniques (BATRRT) and treatment of WEEE, published by DEFRA, states that in order to maximise reuse, as a minimum, Ink and Toner cartridges should be; Isolated from any separately collected Small Appliance WEEE Removed from Printers/Copiers, whole and intact to prevent contamination between any remaining cartridge contents with other waste streams Segregated and stored in suitable labelled containers, independently from other small WEEE appliances Solution
Each HWRC is supplied with a suitable quantity of dedicated 240 litre Ink and Toner cartridge collection bins including onboard signage, for site users to deposit their Ink & Toner cartridges into. BCMY Ltd manage the whole collection and replacement process of full bins, at which point they are transported to BCMY's AATF where cartridges are graded and recovered for reuse or are broken-down into their raw material form for recycling.
By segregating Ink & Toner cartridges at the point of disposal, best practice and duty of care with regards to the waste hierarchy is achieved. In addition, dramatically increases the volume of Ink & Toner WEEE that is able to be reused, in comparison to Ink & Toner WEEE treated along with all other Small Appliance WEEE at non-specialist treatment facilities.
Marketing
To drive awareness of the Ink and Toner cartridge collection bins within the local area, Councils are provided with bespoke marketing materials for use on digital and printed format.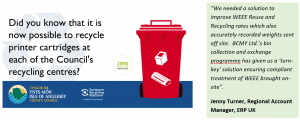 Reporting
All WEEE received by BCMY is weighed, recorded and reported via the Zero Waste Recycling online platform. Reporting can be viewed via individual HWRS or grouped to display regional or combined site performance data.
Reporting available includes: Volume of bins collected, by site Weight of reusable Ink / Toner Weight of recyclable Ink / Toner

Summary
BCMY Ltd offers Household Waste Recycling Sites a compliant and simple solution that increases Reuse and Recycling rates, whilst accurately recording waste treated and ensuring that WEEE contaminates do not affect other waste streams during the waste management process. Through its partnership with ERP - one of the UK's leading Producer Compliance Schemes – BCMY have been able to successfully roll out their services to five additional councils in Wales.
About ERP
ERP UK Ltd are the UK operation for European Recycling Platform (ERP). ERP provides a WEEE and batteries collection service to over 50 local authorities all over the UK — in England, Northern Ireland, Scotland and Wales - at approximately 400 civic amenity sites.
About BCMY Ltd
BCMY Ltd is a specialist provider of Ink and Toner Cartridge Recycling programmes, based in Littlehampton, West Sussex. As an Approved Authorised Treatment Facility (AATF), BCMY Ltd is able to ensure that all Waste Electrical and Electronic Equipment (WEEE) which is processed, complies with all relevant environmental legislation.
SUBSCRIBE to our newsletter